A home is where G_d lives!
The title of this site recalls Ephesians 2: 22f that proclaims: As every structure is aligned on Him (the Christ, Anointed One of the Spirit and "main cornerstone"), all grow into one holy temple in the Lord; and you too, in Him, are being built into a house where G_d lives, in the Spirit.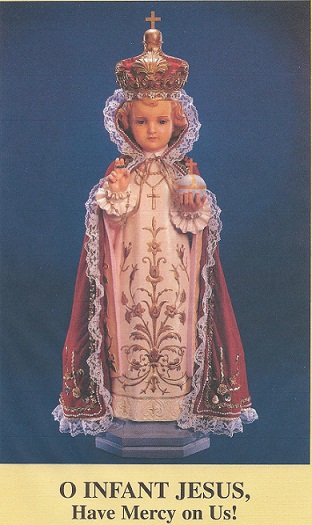 Thank you, Infant Jesus, for becoming poor that we may become rich in being the children of Your Father.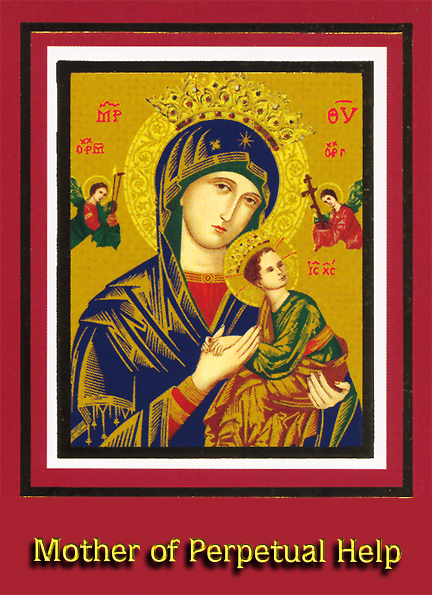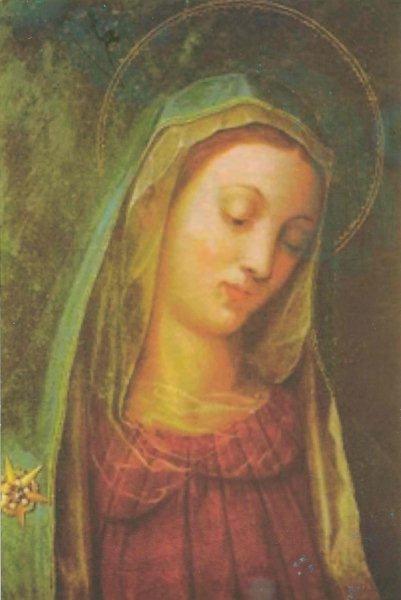 Our Lady of the Bowed Head, protect us as you helped the married couple at Cana by telling Jesus, 'They have no more wine.'
PLEASE CONSIDER THE HOLY CLOAK OF ST. JOSEPH 30 DAY NOVENA IN HONOR OF THE BLESSED VIRGIN'S SPOUSE AND THE FOSTER FATHER OF JESUS!
In 1889, in Quamquam pluries, Pope Leo XIII prescribed that this prayer to St. Joseph be added to the recitation of the Rosary during the month of October. Nothing prevents this prayer from being used by the faithful at any other time.
Prayer to St. Joseph TO thee, O blessed Joseph, do we have recourse in our tribulation, and having implored the help of thy thrice-holy Spouse, we confidently invoke thy patronage also. By that charity wherewith thou wast united to the immaculate Virgin Mother of G_d, and by that fatherly affection with which thou didst embrace the Child Jesus, we beseech thee and we humbly pray, that thou wouldst look graciously upon the inheritance which Jesus Christ hath purchased by His Blood, and assist us in our needs by thy power and strength. Most watchful Guardian of the Holy Family, protect the chosen people of Jesus Christ; keep far from us, most loving father, all blight of error and corruption; mercifully assist us from heaven, most mighty defender, in this our conflict with the powers of darkness; and, even as of old thou didst rescue the Child Jesus from the supreme peril of His life, so now defend G_d's Holy Church from the snares of the enemy and from all adversity; keep us one and all under thy continual protection, that we may be supported by thine example and thine assistance, may be enabled to lead a holy life, die a happy death, and come at last to the possession of everlasting blessedness in heaven. Amen.
Prayer for St. Therese's Intercession
O glorious Saint Therese, whom G_d has raised up to aid and counsel mankind, I implore your miraculous intercession. So powerful are you in obtaining every need of body and soul our Holy Mother Church proclaims you a "Prodigy of Miracles... the greatest saint of modern times."
Now I fervently beg you to answer my petition (mention specifics) and to carry out your promises of spending Heaven doing good on Earth... of letting fall from Heaven a Shower of Roses.
Henceforth, dear Little Flower, I will fulfill your plea "to be made known everywhere" and I will never cease to lead others to Jesus through you. Amen.
Scripture for our time: Many are the troubles of the righteous, but the Lord delivers him from them all. Psalms 34:20
THANK YOU, ST. JUDE, CONSTANT CONSOLER!
O St. Jude, kinsman of Jesus and Mary, thank you for interceding for us with Jesus, the Christ, Who never stops taking our intentions and needs to His Heavenly Father!
Intercessory Prayer to St. Jude
Most holy apostle, St. Jude, faithful servant and friend of Jesus, the Church honors and invokes you universally, as the patron of hopeless cases, of things almost despaired of. Pray for me, I am so helpless and alone. Make use I implore you, of that particular privilege given to you, to bring visible and speedy help where help is almost despaired of. Come to my assistance in this great need that I may receive the consolation and help of heaven in all my necessities, tribulations, and sufferings, particularly - (here make your request) that I may praise G_d with you and all the elect forever. I promise, O blessed St. Jude, to be ever mindful of this great favor, to always honor you as my special and powerful patron, and to gratefully encourage devotion to you. Amen.
A Special Prayer to Saint Anthony (for loss of faith or holiness as well as objects)
Holy St. Anthony, gentlest of Saints, your love for G_d and charity for His creatures made you worthy when on earth to possess miraculous powers, which you were ready to speak for those who are in trouble or anxiety. Encouraged by this thought I implore of you to obtain for me (mention your request). The answer to my prayer may require a miracle, even so, you are the saint of miracles. Oh, gentle and loving St. Anthony, whose heart was full of human sympathy, whisper my petition into the ears of sweet Infant Jesus, who loved to be folded in your arms, and the gratitude of my heart will ever be yours.
This may be offered as a 13 day novena and has never been known to fail. Say three Hail Mary's and three Glory Be's and promise publication.
Words of St. Pope John Paul II
From "Faith & Reason," Saint (Pope) John Paul II wrote: "Men and women are on a journey which is humanly unstoppable - a search for the truth and a search for a Person to whom they might entrust themselves."
As I awoke on the feast of St. Joseph, I opened the Scriptures to Psalms 78 speaking of our need to hear a parable, a story with a lesson. I thought maybe the Great One had such a lesson He wanted to share with me. Thoughts of coming to my grandparents' home came to me. A realization of Jesus saying, 'You know the way to where (He was) going.' I thought that when we are going to a great place and we know the way, being concerned for the journey is not usually a problem. We do not get upset about what's coming as it's good. Sometimes like the Apostle, Thomas, we think we don't know the way (to Paradise)! Jesus assured us, He is the Way... We are to be like Him, Jesus, to get to our journey's end, Heaven, with our Triune God, saints, good angels and creatures. If you wonder about dogs and other pets who were once with you, in Tobit we read, '...and the dog followed them.' Just 'Don't quarrel on the way,' as Joseph told his brothers as they went to their Father, Israel, bringing him to Egypt where there was food (Genesis 45:24).
Similarly, there seemed to be a message in found money, Providence leading a friend to notice $100 bill flapping in a wind. We're to leave some of our resources given from God, I conjecture He taught by a bill found by my friend, where another can find them... Lv. 19: 9f "When you gather the harvest of your land, you're not to harvest to the very end of the field... You're to leave (droppings, some fruit on trees and that fall) for the poor and the stranger. I AM YWH..."
Scroll to bottom for help with your finances through purchasing from stores through ebates.com website with those newly registered being sent $10 cash back in buying $25 in first 90 days of membership. Also find lost money (experienced with recovering Canadian accounts, New York State residents' insurance & other funds lost during moves, etc. The (temperature related :) email should be used, replacing (@t sign) with @.
Lately you will note scriptures received in the Spirit (for discernment) shown on the site. You can delight in the way, today, everyday people are intermediaries between G_d and those around them. Beginning in August of 2014, word gifts that may help you, besides the ones with which you are already familiar on this site, are to be entered almost every day, Lord willing.
Blessed are the merciful, for they will be shown mercy. Matthew 5:7 See, also: Matt. 18:33, Jas. 2:13 (Divine Mercy Sunday, 2019)
"I will go back to My place until they make reparation and seek My presence. In their affliction, they shall look for Me." Hosea 5: 15
"Acquaint yourself with Him, and be at peace: thereby (on this condition), good will come to you." Job 22: 21
Read Ezekiel 17: 22-24 to learn the blessings from humility.. the Lord, He Who is, says this: "From the top of the cedar, from the highest branch I will take a shoot and plant it Myself on a very high mountain. I will plant it Myself on the high mountain of Israel. It will sprout branches and bear fruit, and become a noble cedar. Every kind of bird will live beneath it, every winged creature rest in the shade of its branches. And every tree of the field will learn that I, He Who is, am the One Who stunts tall trees and makes the low ones grow, Who withers green trees and make the withered green. I, He Who is, have spoken, and I will do it.'"
A prophecy from Zephaniah (3:18-19)- "I will remove disaster from you, so that none may recount your disgrace. Yes, at that time I will deal with all who oppress you: I will save the lame, and assemble the outcasts; I will give them praise and renown in all the earth, when I bring about their restoration."
In talking about our political, family or church leaders, the reminder of St. Paul saying that one is not to curse the leader of the people, in Acts of the Apostles, may help us to control ourselves when disappointed with authority figures.
In 2nd Chronicles 20, G_d tells His people to stand firm before some attacking armies, making the promise that they will not have to do any fighting... He assures them and, I believe it is also for this day, that He is going to fight our enemies!
Times like ours call us to prayer, like the author of Psalm 60: 11f- "Help us in this hour of crisis, the help that man can give is worthless. With G_d among us we shall fight like heroes, He will trample on our enemies." Remember that our enemies are not other people but spirits of darkness... confusion, and they try to distract us in our calling to share the good news with those we meet every day. St. Francis told fellow workers in kingdom building, "Preach always; use words if necessary." (Christ-like behavior speaks louder than words, without the proper example.)
In many sections of Scripture, such as Psalm 6:9, we find reminders that G_d listens to and answers our requests. "The Lord heard my supplication; the Lord will receive my prayer." Must we not give thanks since "He answers... prayers; vows to G_d must be fulfilled..."?
"Cast your bread on the waters: it shall come back to you after many days." This word was granted after fervent prayer to Our Shepherd for endurance through Our Lady of the Bowed Head!
In thanks for what appears to be an answer to a special prayer to Jesus through the intercession of His Mother, please enjoy this publication of a useful prayer, in my opinion...
Oh most beautiful flower of Mount Carmel, fruitful vine, Splendor of heaven, Blessed Mother of the Son of G_d, Immaculate Virgin, assist me in my necessity. Star of the Sea, help me and show me herein You are my Mother! Oh, holy Mary, Mother of G_d, Queen of Heaven and Earth, I humbly beg you from the bottom of my heart to comfort me in this necessity. There are none that can withstand your power.
Oh, show me herein you are my Mother, oh Mary, conceived without sin, pray for us who have recourse to You. (3X)
Holy Mother, I place this cause in Your hands. (3X)
Holy Spirit, You Who will solve all problems, light on the road so that I can reach my goal. You from Whom I never want to be separated, You in eternal glory, thank You for Your mercy towards me and mine. Amen.
(Say on three consecutive days. It is piously believed that, after 3 days, it will be granted. It must then be published.) Thank the Lord through His Mother, St. Mary, for this help, that He gave us on the day that He died, for the distressed and those without consolation, when He said to the beloved disciple, symbolic of all His friends, "Son, behold your Mother!"
" . . . The joy of the fool is in doing wrong, but the joy of the discerning one is to acquire wisdom." Proverbs 10: 23
Here is that wisdom . . . "G_d is love and anyone who lives in love, lives in G_d, and G_d lives in him." I John 4: 16
Of his Lord, Jesus ('Yehoshua' in Hebrew: G_d-saves), St. Peter records that: ". . . of all the names in the world given to men, this is the only one by which we can be saved." Acts 4: 12
Parts of this web site:
Greetings to Orthodox brethren! A request for your thought . . .
Personal witness of a return to the Lord for Jonathan, your humble host & editor of the topical scripture booklet As Jesus put it: "You have not chosen Me, but I have chosen you . . ." John 15: 16
Helpful Links [The Father speaks, Irish Jesuit's prayer site, Revised Standard Version of the Bible, apparitions of Jesus & Mary (with status of approval by the church), translations, phone directories, maps, English dictionary, free fax sites, history of voice synthesis (HAL's song, Bicycle Built For Two)]
Here is the medicine for my country and a world in a troubled time, people who have learned we do need G_d . . .
"How happy are the poor in spirit, theirs is the kingdom of heaven." (Matthew 5: 3)
"There is no need to be afraid, little flock, for it has pleased your Father to give you the kingdom." (Luke 6: 32) Please read on . . .
G_d's plan to save the world from death:
"Seek (continuously) and you will find . . ." was the call Jesus, our Scapegoat, gave to his listeners. "The Truth will set you free," is the promise He gives to His followers today as well as two-thousand years ago. We come to have peace from living according to the Way that Jesus shows us by His obedience and His mercy. These we learn by His example. During His crucifixion (death by putting one on a cross after whipping), He did say, "Father, forgive them; they do not know what they are doing."
"Now is the acceptable time" to receive Our Lord inside of your hearts. Do not let yourself be lulled to a false sense of security by the mercy of the Lord saying, "He never sees . . ." or "Who can see us?" (The first is the cry of the wicked in Psalm 10:11 while the second reference is of those seeking to hide their plans from G_d in Isaiah 29:15.) Instead, please read on with the joy of beggars to whom another is showing how to find the Bread of Life!
Perhaps you are asking yourself, "Why am I never satisfied?" The Lord once said, "Let him who has ears, hear!" G_d came to Earth in the person of Jesus Christ to mend the relationship He originally had with humankind. Jesus taught about a generous, kindly and good G_d, calling Him: My Father and your Father. Once He gave this analogy to bring the point home in what would have been considered telling a joke to his listeners:
"Is there a man among you who would hand his son a stone when he asked for bread? Or would hand him a serpent when he asked for a fish? If you, then, who are evil, know how to give your children what is good, how much more will your Father in heaven give good things to those who ask Him?" Mt 7:9-11
Though G_d is full of justice, Jesus, G_d the Son, revealed the mercy of G_d, His Father, in telling the wonderful plan to save His wayward children:
"For G_d sent His Son into the world not to condemn the world, but so that through Him the world might be saved. No one who believes in Him will be condemned . . ." John 3:17-18
We must offer support to whoever instructs us and, though no analogy is perfect, should we not pay our thanks, praise and love to G_d in response to the light He shines on the different mysteries of life, including the afterlife? Just as children honor their parents for support and training they have received from them, G_d, Father of all that is, has the right to all we are and have received. Do we grasp this wonderful call to "life, and (to) have it to the full"? (This quote is from Jesus' words, in John 10:10; see, also: John 5:21-30, where Jesus says He and His Father can bring the gift of everlasting life to whomever He chooses.) He also remarked, "I am the Way, the Truth and the Life. No one can come to the Father except through Me." John 14:6
My heart has been given a concern for all of G_d's people. I hope to help return men and women to the wonder of the original relationship the Lord intended for us to have with Him. Only by recognizing the problem of our having sinned (from the archery term meaning: "missed or outside of the mark") is G_d's desire to call us His sons and daughters possible:
"All have sinned and fall short of the glory of G_d," wrote Paul, a disciple of Gamaliel, who converted from a persecutor of Christians to the apostle of the Gentiles. Paul in his "confessions" told of his conversion experience:
". . . I used to be a blasphemer and did all I could to injure and discredit the faith (Christianity). Mercy, however, was shown me, because until I became a believer, I had been acting in ignorance; and the grace of Our Lord filled me with faith (trust initiated by G_d, for no one can boast of this grace or gift) and with the love that is in Christ Jesus. Here is a saying that you can rely on and nobody should doubt: that Christ Jesus came into the world to save sinners. I myself am the greatest of them; and if mercy has been shown to me, it is because Jesus Christ meant to make me the greatest evidence of His inexhaustible patience for all the other people who would later have to trust in Him to come to eternal life." (In parentheses are comments by the editor) 1 Timothy 1:13-16
We must depend on Jesus for satisfying G_d, the Father, in His just demands regarding our sinful nature, as the psalmist wrote:
"But man could never redeem himself or pay his ransom to G_d: it costs so much to redeem his life, it is beyond him . . ." Psalm 49:7-8
Jerry Garcia, deceased member of the Grateful Dead, eloquently sang a lyric also putting our dependency on Providence for true life to words:
"You've got an empty cup . . . only love can fill."
In the gospel, St. John, the beloved disciple of the Lord, Jesus, wrote, "G_d is love." The word used for 'love' is 'agape,' describing the perfect and unconditional divine love of G_d. This is what it really means to be Christian: to be 'Christ-like.' By putting away selfish thoughts and desires, Jesus' love works through the human heart of Christians.
This Jesus of Whom I write prophesied of His death on a tree in the following way:
"The Son of Man must be lifted up, as Moses lifted up the serpent in the desert, so that everyone who believes may have eternal life." John 3:14-15
The Jews who were bitten by serpents in the desert had to look on a bronze serpent to become healed. It was their faith in G_d's promise by which they were saved. G_d revealed the redemption from our sins by the suffering of Jesus in John's version of the Gospel (the Good News) . . .
"For G_d so loved the world, that He gave up His only-begotten Son so that whoever believes in Him shall not be lost but have eternal life." John 3:16
Isaiah prophesied of this sacrifice Jesus would make on our behalf. Elsewhere it is written that blood is required for forgiveness of sin. Isaiah, moved by the Spirit, prophesied about the Suffering Servant,
"On Him lies a punishment that brings us peace, and through His wounds we are healed." Isa. 53:5(b)
Remember the saying found in Isaiah (beginning in 55:6) to not put off the gift of conversion:
"Seek the Lord while He is still to be found, call to Him while He is still near. Let the wicked man abandon his way, the evil man his thoughts. Let him turn back to the Lord Who will take pity on him, to our G_d Who is rich in forgiving; for My thoughts are not your thoughts, My ways not your ways-- it is the Lord Who speaks. Yes, the heavens are as high above Earth as My ways are above your ways, My thoughts above your thoughts."
Who can search the great mercy of the Lord! Take the opportunity to receive His redemption through Christ. "If you confess with your lips that Jesus is Lord and if you believe in your heart that G_d raised Him from the dead, then you will be saved." (Romans 10:9) Jesus was seen by over 500 people after His death on the cross. Paul wrote of this life after death experience in his First Letter to the Corinthians (15:6). I hope you will find peace through faith. It is good to find fellow believers with which you can share the new life G_d has purchased for you through Christ. And if we do our part in sharing the love we have received from the Lord, this will contribute greatly to taking the message of this wonderful salvation to all peoples. The glory and praise be to G_d!
A friend was on his way home from work when his car got a flat tire. His efforts to get the tire off were not going too happily when, out of nowhere, two young ladies appeared wearing sweatshirts that said, "Praise the Lord." They smiled asking him if he needed help. He asked the Lord, in his thoughts, "Why didn't you send me two strong men?" The tires were changed in a few minutes. They left him after hugging him, saying, "G_d loves you." When he told his wife the story, she laughed. She asked, "Don't you remember that I always pray that the angels take care of you when you travel to work?"
Another friend had gone up onto a concrete divider with her car. She always prayed that the angels will watch over her. Out of somewhere, a woman in a very colorful outfit came. She clapped her hands, saying, "Ten strong men!" According to my friend, ten men of every race came around the car. They picked it up off the divider, putting her back on the road. She was sure this was help from an angel.
John Wayne- A Scene from "The Thief on the Cross Next to Jesus"
(part of a letter left at St. Ann's Shrine in Cleveland, Ohio on his last days)
The most popular movie star of an older generation, an actor of the silver screen for nearly fifty years, lay dying in his hospital room. None of his popularity mattered any more. He knew that his life, filled with earthly pursuits, had taken a toll on him now that his body was being eaten with cancer and there was nothing that his fame or fortune could do to bring him back to health.
One morning as he lay in bed in a New England hospital, the old actor looked up to see who was knocking lightly on his door. "Yes," the actor answered in a soft gruff voice. "Good morning! I am Sister Agnes," the young nun introduced herself. "I work in the chaplain's office here in the hospital. I came to see if there is anything I can do to make you more comfortable."
"I am dying, Sister," the man responded. "I don't know what you could do to help me."
"I could pray for you," Sister Agnes answered, "it is never too late for that!"
"I don't know what good that would do," he replied, "I've led a pretty rough life."
"G_d forgives whatever it is you have done," the Sister reassured him, "and after you die, I will continue to pray for you."
"But why?" the old actor continued. "Why would you pray for me when I'm dead? There's no hope after that!"
"There is always hope!" Sister Agnes told him. "You see, Catholics believe that if you ask G_d to forgive you before you die, you will be forgiven and you will eventually get to Heaven. I believe that I can help people get to Heaven by praying for them now and even after their earthly life. You must read the Second Book of Maccabees in the Old Testament."
The old man was quiet. He didn't say another word. Sister Agnes left quietly.
Several days later, Sister Agnes returned to the man's room. The actor's face was more pale than before. His eyes were a little darker and more sunken. Nevertheless, he tried to sit up as soon as he saw her. "One of the nurses said you wanted to see me," Sister Agnes said.
"Tell me more about what it means to be a Catholic," the man said as his eyes widened. Sister Agnes smiled. "What did I say the other day that interested you?" she responded.
"Sister," he said very deliberately, "nearly all my adult life I've been surrounded by people who only cared about how much money I could make. Now you're telling me that there are people like you who care enough about me, that there are people who will pray for me, even after I'm gone! I like the sound of that!"
Over the next several days, Sister Agnes explained more about the Catholic faith and what the Church teaches. And when he had learned all that the Sister had to teach him, John Wayne, the movie star who was dying of cancer, was baptized into the Catholic faith. Eventually he confessed his sins to a priest and died a Catholic believer.
. . . How important it is to help those in need of spiritual and physical guidance . . . Like John Wayne's experience, it is never too late to ask!
A suggestion for the Eastern Orthodox peoples
The wisdom of the Spirit says through St. Paul, "The man who thinks he is safe must be careful that he does not fall." We must question ourselves or we may grow overconfident. One of my Russian Orthodox friends, a priest, asked me what our catholic church holds true regarding the human nature of the Christ. His community holds that Jesus had a fallen (Adamic) nature which He redeemed. Since St. Paul wrote that Our Lord was "like us in all things but sin," I told Him the church teaches the Lord had a faultless nature even in His humanity. In an early scene of John's gospel (1:36), St. John the Baptist says to some of his followers, "Look, there is the lamb of G_d." These words foretell of another Passover with Jesus as the sacrifice to cover the sins of humankind. Earlier sacrifices to the Lord had to be chosen without spot or imperfection (see: Deut. 17:1; 15:21). Exodus 12:5, relating to the Passover victim, told that it "must be an animal without blemish," a foreshadowing of the spotless Son of G_d who bled for us. My hope is that this truth, once accepted, will lead to setting my Orthodox sisters and brothers free.
I humbly ask you to consider in your heart the possibility that others of the Eastern Orthodox "truths" are misrepresentations also. If the justice of G_d, the Father, allowed His own Son's life blood to be demanded, as a truly perfect "lamb of G_d," He must have been free of the weakness normally inherited from Adam. Read the words of the author of the letter to the Hebrews who wrote that Christ "offered himself as the perfect sacrifice to G_d . . ." (Hebrews 9:14). You will therefore be justified in testing other teachings differing from those of the one, true church, to learn whether they are suspect too.
May our peace of mind come from following on the path where the Lord would have us. Remember, the "Church of the living G_d, (is) the . . . support of the truth" (1 Timothy 3:15).
NOT BY BREAD ALONE: SOUL FOOD FROM G_D
Commentary written and topical scriptures edited

by Jonathan K.
FOREWORD
Scriptural prophecy is the proclamation of a useful word from the Sacred Scriptures. The word "prophecy" often brings to mind foretelling future events before their occurrence. While this aspect of the inspired word is valuable in confirmation of the divine authorship of biblical writings, making predictions is not the only purpose of scriptural prophecy. ". . . and you will be right to depend on prophecy and take it as a lamp for lighting a way through the dark until the dawn comes and the Morning Star rises in your hearts." (2 Peter 1:19) My hope is to provide practical wisdom as well as to relate the good news of the primary reason for G_d's intervention in people's affairs, redemption from eternal death by Jesus.
He, the Morning Star to which St. Peter referred, can thereby shine light for our renewal. May we, by this light from the Lord, understand His ways regarding day-to-day issues without neglecting our hope for the future glory achieved at the price of His death.
Why is renewal such a familiar topic recently? For those unfamiliar, Pope John Paul II, in his encyclical letter, Redemptoris Missio, related the prophetic words, "As the third millennium of the Redemption draws near, G_d is preparing a great springtime for Christianity, and we can already see its first signs" (n. 86). Also, in Tertio Millennio Adveniente, the pope clarifies that this "new springtime of Christian life will be revealed by the Great Jubilee(1) if Christians are docile to the action of the Holy Spirit" (n. 18). This is cause for a great sense of expectancy for some great times of growth for G_d's people.
Recently the Lord impressed me that, while the 21st Century is to be a time of renewal, it will unfold gradually, as seasons do. On the first day of this century, I sent a letter to Steve Benthal of the Office of Charismatic Renewal in the Diocese of Rockville Centre in Long Island, New York. In it, I exhorted patience to see the fruits of the promised revival.
On New Years morning, I wrote to this leader of the local Charismatic Renewal that I was awakened early by passing cars of revellers who had stopped outside my bedroom. I turned to the Lord in my distress at their apparent lack of consideration, I related to Steve. I still suffered from a respiratory infection but, like Jeremiah at the potters house, there was a lesson to be learned in the experience. The Lord, so wise yet understanding of my predicament, said, "The 20th Century, with all its ills, will surely not be cured in a day!"
There is wonderful consolation in prudently accepting that there are pains of birthing that go along with any change. The Lord inspired the author of one of the Psalms (147 (146): 17, 18) to say that when it is unbearably cold, G_d "sends His word to bring the thaw." Sometimes Christians need to see that victory dawns with endurance, though the grand plan for peace may unfold during the night watches. Being sick since the end of November, a period of recovery was obviously needed before the prescribed antibiotics, with G_d's blessing, accomplished their purpose. Likewise, lest we grow discouraged, we must understand the need for perseverance before seeing our world get better.
February, 2001
J.K.
INTRODUCTION (WITH PERSONAL WITNESS OF EDITOR'S RETURN TO THE LORD)
My ministry, I have been told by long standing members of the Catholic charismatic community, is one of scriptural prophecy. I hope to answer the call Paul gave Timothy in writing: "preach the word, be urgent in season, out of season; reprove, entreat, rebuke with all patience and teaching. For there will come a time when they will not endure the sound doctrine; but having itching ears, will heap up to themselves teachers according to their own lusts, and they will turn away their hearing from the truth and turn aside rather to fables" (2 Timothy 4: 2 - 4). You might be thinking, "This does not seem like the story of MY life." To really put my current life in perspective, look at where I was at some short time ago.
Have you ever been at a point where you are looking for something that is missing from your life? I was! I did not find that something until a nurse at a hospital told me what I needed to hear. She was a very pretty blonde. One day she remarked, "When you leave here, someone will be with you who will never let you down." I asked, "Do you mean yourself?" She said, "No; I mean Jesus!" What she had said, by G_d's grace, began a new period of peace in my life. I am so grateful for what she taught me, proof itself of G_d's concern. Note my joy when I came to find the word,
"And know that I am with you always; yes, to the end of time" Matthew 28: 20.
These departing words of the Lord confirmed what the charge nurse said, now etched in my heart, the truth of Jesus' loyalty to His followers.
Time passed. My mother, laying in bed with cancer, loaned me a book friends had given to her that described the Spirit of G_d as "The Helper." One night, I was praying in bed after having asked for G_d's Holy Spirit, this Helper, to come into my life in a special way. There was a sound of a strong wind outside our family's home. I had an overwhelming awareness that I was not alone. A strong yet reassuring presence of the Lord's Spirit had come over me. Later, when an elder in the charismatic community asked if I felt at all troubled at the time of this experience, I responded that I, rather, felt very safe and was at peace. He then was sure this was the Holy Spirit Who was making His love known to me.
Reassurance came to me when what I had experienced was acknowledged as mirroring the events of the day of Pentecost. Apostles of the Lord heard the sound of a great wind outside the Upper Room where they prayed for the Promised, the Spirit of the Lord Jesus. May my witness of the reality of the promise of this Helper be encouragement for others reading this to pray similarly. Our Lord promised that the "Father (will) give the Holy Spirit to those who ask Him!" (Luke 11: 13)
I attended a retreat offered by the charismatic community that gathers at the Bishop Molloy Retreat House in Jamaica, New York. A prayer team member and his spouse were laying their hands on me in petition to the Lord. He told me in the Lord's name, though admitting he infrequently gives personal prophecies,
YOU WILL BE THE HELPER OF MANY MEN & WOMEN.
Later, Babsie Bleasdell, a charismatic conference speaker, added that she felt the Spirit was saying that I would help many men and women to come to salvation. This was an interesting, and apparently, important clarification. I merely note these facts to comply with a prophecy given to Habakkuk,
"Write the vision down, inscribe it on tablets to be easily read, since this vision is for its own time only: eager for its own fulfillment, it does not deceive; if it comes slowly, wait, for come it will, without fail" (Habakkuk 2: 2 - 3).
You might be witnessing to the prophecy's gradually coming to fulfillment. By opening up your heart to the message proclaimed herein, I look to the Spirit of G_d nourishing Christ's gift of faith by the scattered seeds of Truth falling on good soil. The Spirit of the Lord, the Helper I encountered and still do, makes use of vessels of clay to carry the treasure of His Word. May you bear fruit abundantly!
ABBREVIATIONS AND MISCELLANEOUS NOTES
Cf.: = See, also... I.e. = That is... f/(ff) = & following verse(s)
Scriptures: Jerusalem Bible Readers Edition unless otherwise noted.
Psalms: Some versions use the Hebrew numbering though others opt for a different system (in parentheses).
The book, Sirach, is also called Ecclesiasticus.
Heading Cross-references
Cf.: Topic[#] = See, also related scripture at the verse numbered (#) under "Topic"
(Example: Patience [2] cross-references to the verse numbered 2 in series of scriptures for meditation on the topic, "Patience")
(n. #) = refers to section of papal document
(#) = footnote (at the end of the booklet)
The following scriptures meant something to me. I felt prompted to share these few scriptures so others would be blessed by them as I have been. Where not able to include all of them by verse due to copyright restrictions I have simply listed them by book, chapter and verse(s).
SCRIPTURES BY ALPHABETICAL HEADINGS
Anger (Cf.: Patience [2]; Speech [3])
1. Do not resent your neighbor's every offense, and never act in a fit of passion. Sirach 10: 6
Anxiety
2. Unload all your worries on to him,(2) since He is looking after you. 1 Peter 5: 7
Asking (Cf.: Anxiety [2]; Belief [2]; Considering our motives [2]; Doubt [12]; Forgiving [8])
3. Paul advises to pray rather than worry Philippians 4: 6 - 9
4. Ask(3) and you shall receive; search(3) and you shall find; knock(4) and the door shall be opened unto you. Luke 11: 9 - 13
5. The Lords Prayer Luke 11: 1 - 4
6. Perseverance in prayer Luke 18: 1 - 8; Luke 11: 5 - 8
Belief
1. . . . without faith it is impossible to please G_d. For he who comes to G_d must believe that G_d exists and is a rewarder to those who seek Him. Hebrews 11: 6 CCD
2. . . . all things whatever you ask for in prayer, believe that you shall receive, and they shall come to you. Mark 11: 24 CCD
Broken-heartedness (Cf.: Promises of Consolation)
3. Yhwh is near to the broken-hearted, He helps those whose spirit is crushed. Psalm 34 (33): 18
Charity (Cf.: Relationships [2]; Unity [6])
1. Let brotherly love abide in you, and do not forget to entertain strangers; for thereby some have entertained angels unawares. Remember those who are in bonds as if you were bound with them, and those who are ill-treated, as tarrying yourselves also in the body. Hebrews 13: 1 - 3 CCD
Considering our motives
2. James 4: 3
Detachment (Cf.: Greed [7, 8]; Humility [10, 14, 18]; Simplicity [1, 2])
1. Colossians 3: 2, 3
2. 2 Corinthians 4: 13f, 16 - 18
3. Don't be afraid, little flock, for it has pleased your Father to give you the kingdom. Sell what you have and give alms. Make for yourselves purses that do not grow old, a treasure unfailing in heaven, where neither thief draws near nor moth destroys. For where your treasure is, there also will your heart be. Luke 12: 32 - 34 CCD
4. 2 Corinthians 5: 6f
Dignity of the Faithful
5. For those He has foreknown He has also predestined to become conformed to the image of His Son, that He should be the firstborn among many brethren. Romans 8: 29 (f) CCD
Dignity of Jesus Christ, the G_d-man, and humankind
6. You have made him little less than the angels . . . Psalm 8: 5 CCD (Cf.: Hebrews 2: 7, 9)
7. Truly you have formed my inmost being; you knit me in my mothers womb. I give you thanks that I am fearfully, wonderfully made; wonderful are your works. Psalm 139 (138): 13f CCD
Diligence
8. Galatians 6: 9
Discernment
9. 1 Corinthians 14: 33
10. Sirach 36: 18, 19 (f)
11. Reason must be the beginning of every activity, reflection must come before any undertaking. Thoughts are rooted in the heart, and this sends out four branches: good and evil, life and death. . . Sirach 37: 16ff
Doubt
12. James 1: 5 - 8
Faith
1. . . . faith comes from what is preached,(5) and what is preached(5) comes from the word of Christ. Romans 10: 17
Fear
2. Do not be afraid, for I am with you; Stop being anxious and watchful(6), for I am your G_d. I give you strength(7), I bring you help, I uphold you with my victorious right hand. Isaiah 41: 10
Forgiving
3. How many times should I forgive my brother if he wrongs me, seven times? Jesus replied, I say, not seven time but seventy times seven times(8). Matthew 18: 22
4. Luke 17: 3, 4
5. Justice tempered by mercy Matthew 18: 23 - 35
6. The need to first perceive and remove our own faults before attempting to correct others Luke 6: 41f
7. Correction with forgiveness Luke 17: 3f
8. Necessary for receipt of our own forgiveness Mark 11: 25
Freedom
9. He has set fire and water before you; put out your hand to whichever you prefer. Man has life and death before him; whichever a man likes better will be given him. Sirach 15: 16f
Friendship
10.Having religious companions Psalm 101 (100): 6
11.Let not loyalty and faithfulness forsake you; bind them about your neck, write them on the tablet of your heart. So you will find favor and good repute in the sight of G_d and man. Proverbs 3: 3f RSV
Giving
1. For what a man sows, that he will also reap. Galatians 6: 7 CCD
2. If you have many possessions, make your gift from them in proportion; if few, do not be afraid to give according to the little you have. Tobit 4: 8 RSV
3. Be merciful, even as your Father is merciful. . . .give, and it will be given to you; good measure, pressed down, shaken together, running over, will be put into your lap. For the measure you give will be the measure you get back. Luke 6: 36, 38 RSV
4. Bring the full tithes(9) and dues to the storehouse so that there may be food in My house, and then see if I do not open the floodgates of heaven for you and pour out blessing for you in abundance. Malachi 3: 10
5. Graciousness is like a paradise of blessing, and generosity stands firm for ever. Sirach 40: 17
6. One man gives freely, yet grows all the richer; another withholds what he should give, and only suffers want. A liberal man will be enriched, and one who waters will himself be watered. Proverbs 11: 24f RSV
Greed (Cf.: Detachment [1 - 4]; Promises. . . [15]; Simplicity [1, 2])
7. Ecclesiastes 5: 9
8. 1 John 2: 15 - 17
9. Luke 12: 15ff
Grieving
10.Matthew 5: 4
11.My son, shed tears over a dead man, and intone the lament to show your own deep grief; bury his body with due ceremonial, and do not neglect to honour his grave. Weep bitterly, wail most fervently; observe the mourning the dead man deserves, one day, or two, to avoid comment, and then be comforted in your sorrow; for grief can lead to death, a grief-stricken heart undermines your strength. Let grief end with the funeral; a life of grief oppresses the mind. Sirach 38: 16 - 20 (Cf.: Sirach 38: 21 - 24)
Guidance from the Spirit
12. Romans 8: 1 - 3
13.Galatians 6: 8 (Cf.: Galatians 5: 16 - 26)
14.Let your good Spirit lead me on a level path. Psalm 143 (142): 10 CCD
Gullibility
15.Being too ready to trust shows shallowness of mind. . . Sirach 19: 4
16.Sirach 12: 29 - 34
Haste
1. Proverbs 19: 2
2. You are not to hurry away,(10) you are not to leave as fugitives. No, Yhwh will go in front of you, and the G_d of Israel will be your rearguard. Isaiah 52: 12
Health
3. Proverbs 17: 22
4. James 5: 13 - 16
5. These are the signs that will be associated with believers: . . .they will lay their hands on the sick, who will recover. Mark 16: 17f
6. He. . . cured all who were sick. This was to fulfill the prophecy of Isaiah: He took our sicknesses away and carried our diseases for us.(11) Matthew 8: 16f
7. Honour the doctor with the honour that is his due in return for his services; for he too has been created by the Lord. Healing itself comes from the Most High, like a gift from a king. . . The Lord has brought medicines into existence from the earth, and the sensible man will not despise them. . . My son when you are ill, do not be depressed, but pray to the Lord and He will heal you. Sirach 38: 1, 2, 4, 9
Hope
8. John 14: 2f
9. Lord, let your love rest on us as our hope has rested in You. Ps. 33: 22
Humility (Cf.: Simplicity [2])
10. It is easier for a camel to pass through the eye of a needle(12) than for a rich man to enter the kingdom of G_d. Mark 10: 25 (Cf.: Matthew 19: 24; Luke 18: 25)
11. If you desire wisdom, keep the commandments, and the Lord will bestow her upon you; for fear of the Lord is wisdom and culture; loyal humility is His delight. Sirach 1: 23f CCD
12. Childlike humility Matthew 18: 3f
13. Childlike faith Mark 10: 14f
14. Choosing the lowest place Luke 14: 7 - 11
15. Humble servants Luke 17: 7 - 10
16. Humility goes before honour. Proverbs 15: 33
17. Gentleness at work Sirach 3: 17 - 20
18. John(13) replied: A man can lay claim only to what is given him from heaven. . . He(14) must grow greater, I must grow smaller. John 3: 27, 30
19. Man's heart makes the plans, Yhwh gives the answer. A man's heart plans out his way but it is Yhwh who makes his steps secure. Pride goes before destruction, a haughty spirit before a fall. Better be humble among the lowly than share the booty with the proud. Proverbs 16: 1, 9, 18f
Marriage
1. The Perfect Spouse Proverbs 31: 10 - 31
2. Two are better than one, because they have a good reward for their toil. For if they fall, one will lift up his fellow; but woe to him who is alone when he falls and has not another to lift him up. Again, if two lie together, they are warm; but how can one be warm alone? And though a man might prevail against one who is alone, two will withstand him. A threefold cord is not quickly broken. Ecclesiastes 4: 9 - 12 RSV
3. Enjoy life with the wife whom you love, all the days of your vain life which he has given you under the sun, because that is your portion in life and in your toil at which you toil under the sun. Ecclesiastes 9: 9 RSV
4. Tribulation of persecution: Paul finds marriage troublesome under this circumstance 1 Corinthians 7: 25 - 28
Overconfidence
1. Do not be overconfident on an even road. . . Sirach 32: 21
2. The man who thinks he is safe must be careful that he does not fall. 1 Corinthians 10: 12
Patience
1. Better is the end of a thing than its beginning; and the patient in spirit is better than the proud in spirit. Ecclesiastes 7: 8 RSV
2. He who is slow to anger is better than the mighty, and he who rules his spirit than he who takes a city. Proverbs 16: 32 RSV
Payments
3. Promptness as opportunity permits Proverbs 3: 28
4. When he opens his hands he rejoices, by the same token defaulters will come to utter ruin. Sirach 40: 14
Peace
5. Be still and see that I am G_d; . . . I will be exalted in the earth. Psalm 46 (45): 10 Douay
Practicality
6. Better is the sight of the eyes(15) than the wandering of desire. . . Ecclesiastes 6: 9 RSV
Praise
7. Send up the sweet odor of your hymn of praise. Sirach 39: 14 (Cf.: Sirach 39: 12 - 21)
8. Your love is better than life itself, my lips will recite Your praise; all my life I will bless You, in Your name lift up my hands; my soul will feast most richly, on my lips a song of joy and, in my mouth, praise. Psalm 63 (62): 3 - 5
Procrastination
9. Keep watching the wind and you will never sow, stare at the clouds and you will never reap. Just as you do not know the way of the wind or the mysteries of a woman with child, no more can you know the work of G_d who is behind it all. In the morning sow your seed, do not let your hands lie idle in the evening. For which will prove successful, this or that, you cannot tell; and it may be that both will turn out well together. Ecclesiates 11: 4 - 6
10. Do your work before the appointed time and He in His time will give you your reward. Sirach 51: 30
Promises of consolation
11. Remember your word to Your servant since You have given me hope. My comfort in my affliction is that Your promise gives me life. Psalm 119 (118): 49f CCD
12. What could I have done for my vineyard that I have not done? Isaiah 5: 4
13. We know that by turning everything to their good G_d co-operates with all those who love Him, with all those that He has called according to His purpose. They are the ones He chose specially long ago and intended to become true images of His Son, so that His Son might be the eldest of many brothers. He called those He intended for this; those He called He justified, and with those He justified He shared His glory. After saying this, what can we add? With G_d on our side who can be against us? Since G_d did not spare His own Son, but gave Him up to benefit us all, we may be certain, after such a gift, that He will not refuse anything He can give. Romans 8: 28 - 32
14. Listen to Me, faint hearts, who feel far from victory. I bring My victory near, already it is close, my salvation will not be late. I will give salvation to Zion, My glory shall be for Israel. Isaiah 46: 12f
15. No defeat nor condemnation for His servants Isaiah 54: 17
16. Put greed out of your lives and be content with whatever you have; G_d Himself has said, I will not fail you or desert you,(16) and so we can say with confidence: With the Lord to help me, I fear nothing: what can man do to me?(17) Hebrews 13: 5f
17. 2 Corinthians 1: 3 - 7
18. Do not let your hearts be troubled. Trust in G_d still, and trust in Me. There are many rooms in My Father's house . .. I am going now to prepare a place for you, and after I have gone and prepared you a place, I shall return to take you with Me; so that where I am you may be too. John 14: 1 - 3
19. G_d has plans for the good of His faithful remnant Jeremiah 29: 11 - 14
Providence
20. Yhwh is my shepherd, I lack nothing. Psalm 23 (22): 1
21. The LORD is faithful in all his words, and gracious in all his deeds. The LORD upholds all who are falling, and raises up all who are bowed down. The eyes of all look to thee, and thou givest them their food in due season. Thou openest thy hand, thou satisfiest the desire of every living thing. Psalm 145: 13 - 16 RSV
22. The disciples had forgotten to take any food and they had only one loaf with them in the boat. Then He gave them this warning, Keep your eyes open; be on your guard against the yeast of the Pharisees and the yeast of Herod. And they said to one another, It is because we have no bread. And Jesus knew it, and He said to them, Why are you talking about having no bread? Do you not yet understand? Have you no perception? Are your minds closed? Have you eyes that do not see, ears that do not hear?(18) Or do you not remember? When I broke the five loaves among the five thousand, how many baskets full of scraps did you collect? They answered, Twelve. And when I broke the seven loaves for the four thousand, how many baskets full of scraps did you collect? And they answered, Seven. Then He said to them, Are you still without perception? Mark 8: 14ff
Relationships (Cf.: Friendship [10, 11]; Marriage)
1. Do not set your foot too often in your neighbours house, for fear he tires of you and comes to hate you. Proverbs 25: 17
2. He who looks down on his neighbor sins, blessed is he who takes pity on the poor. Proverbs 14: 21
Reputation (Cf.: Friendship [11])
3. A good name is better than precious ointment; and the day of death, than the day of birth. Ecclesiastes 7: 1 RSV
Returning to the Lord
4. Nevertheless, I have this complaint to make; you have less love now than you used to. Think where you were before you fell; repent, and do as you used to at first. . . Revelation 2: 4
Salvation in Jesus(19) Christ(20)
1. Thanksgiving for the treasure of our new birth through Christ's resurrection after His prophesied suffering 1 Peter 1: 3 - 21
2. The Son of Man has not come to be served but to serve, and to give His life as a ransom for many. Matthew 20: 28 CCD
3. For if thou confess with thy mouth that Jesus is the Lord, and believe in thy heart that G_d has raised Him from the dead, thou shalt be saved. Romans 10: 9 CCD (Cf.: Romans 10: 10 - 13)
Simplicity
1. Man's eyes are never filled. Proverbs 27: 20
2. Trust will keep one in peace- O Lord, my heart is not proud, nor are my eyes haughty; I busy not myself with great things, nor with things too sublime for me. . . . rather, I have stilled and quieted my soul like a weaned child. Like a weaned child on its mothers lap, [so is my soul within me.] O Israel, hope in the Lord, both now and forever. Psalm 131 (130) CCD
Speech
3. Gentle replies soothe anger Proverbs 15: 1
4. Prepare what to say, and thus you will be heard; bind together your instruction, and make your answer. Sirach 33:4 RSV
5. Be slow to speak although ready to listen James 1: 19
6. Vanity of multiplying useless sayings Ecclesiastes 6: 11
7. Control over the words spoken liberates from disaster Proverbs 21: 23
8. The fruit discloses the cultivation of a tree; so the expression of a thought discloses the cultivation of a man's mind. Do not praise a man before you hear him reason, for this is the test of men. Sirach 27: 6, 7 RSV
9. The wise of heart is called a man of discernment, and pleasant speech increases persuasiveness. Proverbs 16: 21 RSV
10. The mind of the wise makes his speech judicious,(21) and adds persuasiveness to his lips. Proverbs 16: 23 RSV
11. Be quick to listen, and deliberate in giving an answer. Sirach 5: 11 (Cf.: James 1: 19)
12. Be in no hurry to speak; do not hastily declare yourself before G_d; for G_d is in heaven, you on earth. Be sparing, then, of speech: Dreaming comes from much worrying, foolish talk from a multiplicity of words. Ecclesiastes 5: 1ff
13. Hard work always yields its profit, idle talk brings only want. Proverbs 14: 23
Suffering
14. Let Him kill me if He will. Job 13: 15
15. If we take happiness from G_d's hand, must we not take sorrow too? Job 2: 10
Temptation
1. Resist the devil, and he will run away from you. James 4: 7
Trouble
2. If they persecute you in one town, take refuge in the next. Matthew 10: 23
3. Keep your distance from the man who has the power to put to death, and you will not be haunted by the fear of dying. Sirach 9: 18
4. Do not venture on a rough road, for fear of stumbling over the stones. Sirach 32: 20, 25
5. Charcoal for live embers, wood for fire, for kindling strife a quarrelsome man. Proverbs 26: 21
6. The man who digs a pit falls into it, the stone comes back on him that rolls it. Proverbs 26: 27
7. Do what is good, and no evil can befall you. Tobit 12: 7
8. Those who commit sin and do evil, bring harm on themselves. Tobit 12: 10
Trust (Cf.: Simplicity [2])
9. G_d: Ultimate source of our security Jeremiah 17: 5 - 8
10. A king is not saved by a mighty army, nor is a warrior delivered by great strength. Useless is the horse for safety; great though its strength, it cannot provide escape. Psalm 33 (32): 16f CCD
11. Raise me up when I am most afraid, I put my trust in you; in G_d, whose word(22) I praise, in G_d I put my trust, fearing nothing; what can men do to me? Psalm 56 (55): 2 - 4
12. Tolerate no foreign g_d, worship no alien g_d; I, Yhwh, am your G_d, I who brought you here from Egypt; you have only to open your mouth for Me to fill it. . . If only My people would listen, if Israel would follow My ways, at one blow I would defeat their enemies and strike at all who attack them. Psalm 81 (80): 9f, 13f
Truth
13. Living by truth and growing into the body of Christ via its various services Ephesians 4: 11ff
14. Listen to Jesus for the Truth John 8: 31f
15. Jesus is the Truth; through Him one finds the Father John 14: 6
16. Effectiveness of the Word of G_d: Analogy with snow supplying growth of crops Isaiah 55: 10f
17. Word of the Spirit is as effective as a sword, showing ones true feelings and thoughts Hebrews 4: 12
Unity (Cf.: Truth [13])
1. Always be wanting peace(23) with all people, and the holiness without which no one can ever see the Lord. Be careful that no one is deprived of the grace of G_d and that no root of bitterness should begin to grow and make trouble;(24) this can poison a whole community. Hebrews 12: 14f
2. Division produces weakness Mark 3: 25
3. Inordinate ambition brings disruption of community James 4: 1, 2 (Cf.: Considering our motives [2])
4. Mark 9: 50
5. Centering on the Lord John 15: 5
6. The analogy of the Church as a body made of differently functioning parts 1 Corinthians 12: 12 - 30
V. Vision
1. I will make the blind walk along the road and lead them along paths. I will turn darkness into light before them. . . Isaiah 42: 16
2. A lamp to my feet is your word, a light to my path. Psalm 119 (118): 105 CCD
3. Jesus said, "It is for judgment that I have come into this world, so that those without sight may see and those with sight turn blind." Hearing this, some Pharisees who were present said to Him, "We are not blind, surely?" Jesus replied, "Blind? If you were, you would not be guilty, but since you say, We see, your guilt remains." John 9: 3f
Wealth (Cf.: Giving[1, 3 - 6]; Greed [7 - 9])
Wisdom (Cf.: Humility [11]; Vision [2])
1. Teach us to count how few days we have and so gain wisdom of heart. Psalm 90 (89): 12
2. . . . wisdom is better than jewels, and all that you desire cannot compare with her. My fruit is better than gold, even fine gold, and my yield than choice silver. Proverbs 8: 11, 19 RSV
AFTERWORD
Valuables are not normally relinquished without a reassessment of their worth. What do you treasure? Questionnaires of what one carries after a shipwreck, a fire or, perhaps, some other disaster indicate what is essential to life or not. Though based on the artificial limitations imposed, your highest priorities emerge from this sort of mind exercise. Jesus confirmed that the Scriptures are more essential to life than physical sustenance: Man does not live on bread alone but on every word that comes from the mouth of G_d.(25) Our fathers ate the manna in the wilderness; as it is written, `He gave them bread from heaven to eat.'" Jesus then said to them, "Truly, truly, I say to you, it was not Moses who gave you the bread from heaven; my Father gives you the true bread from heaven (John 6: 31f RSV)." That Bread is the Lord. Eat!
FOOTNOTES
1. The year of favor declared by Pope John Paul II from Christmas, 1999 to Epiphany, 2001
2. Psalm 55: 22
3. Original sense: continuously.
4. Original sense: continuously and showing reverence
5. Hearing is the word used for this phrase in the Confraternity of Christian Doctrine (CCD) version.
(Hit BACK button to return to the place from which you went to the footnotes. On some browsers, hitting Alt- <-- does this, also.)
6. Looking around at circumstances rather than focusing on the constancy of G_d and of His promises
7. Original sense: ability or hardening to difficulties
8. Or, as many times as is necessary
9. Original: tenths of produce
10. I.e., from exile or, by analogy, any type of bondage
(Hit BACK button to return to the place from which you went to the footnotes. On some browsers, hitting Alt- <-- does this, also.)
11. Isaiah 53: 4
12. Some scripture scholars believe the verse refers to a gate in old Jerusalem, "The Eye of the Needle," known for the difficulty camel drivers had in passage of their beasts who had to kneel, be totally off-loaded of their burdens and pushed to get through it. There are others denying it yet scripture exhorts us, "Should riches increase, keep your heart detached."
13. John the Baptist
14. Jesus
15. I.e., present realities
(Hit BACK button to return to the place from which you went to the footnotes. On some browsers, hitting Alt- <-- does this, also.)
16. Deuteronomy 31: 6
17. Psalm 118: 6
18. Jeremiah 5: 21; Ezekiel 12: 2
19. G_d-saves (Cf.: Matthew 1: 21)
20. The Anointed One (of the Holy Spirit)
(Hit BACK button to return to the place from which you went to the footnotes. On some browsers, hitting Alt- <-- does this, also.)
21. . . . makes him eloquent (CCD)
22. I.e., promise
23. Psalm 34: 14
24. Deuteronomy 29: 17
25. Deuteronomy 8: 3 ; Matthew 4: 4 ; (Cf.: Luke 4: 4)
Hit BACK button to return to the place from which you went to the footnotes. On some browsers, hitting Alt- <-- does this, also.)
The almighty Father's revelation to the world of His love through an Italian missionary
The Irish Jesuits invite you to make a `Sacred Space' in your day, and spend ten minutes, praying here and now, as you sit at your computer, with the help of on-screen guidance and scripture chosen specially every day. (Spanish, Italian, Gaeilge, Japanese, English, Portuguese, and more languages)
Revised Standard Version (RSV) Bible Search
Personal Growth from SelfGrowth.com-- SelfGrowth.com is the most complete guide to information about Personal Growth on the Internet.
If you want to translate text or sites from Spanish, Italian, German, French or other languages into English, free translation is available.
Switchboard's Phone Directories
Note: AOL customers should seek a link to special buttons suited to their web browsers after clicking on the above link.
"The Phone Company" Free Fax from the Web Interface
(Only useful to certain regions)
J2 Global Communications's Fax & Voicemail Receiving Site
(Faxing from web also available)
Are there any questions you have? Jesus/Yeshua [Hebrew: G_d-saves] said, "Seek (continually) and you will find; ask (and keep asking) and you will receive; knock (persistently and with reverence) and the door will be opened for you." In your pursuit of the Lord and His truth, a good start is to depend on the promise G_d made, "I will never fail nor forsake you."
You are unique! (Repeat that four times quickly!) Do you think Jesus can help you? Call on Him and He will answer you! (Jeremiah 33:3) Request information on everything from the road to reconciliation with G_d Almighty through finding His only-begotten Son, Jesus (He is not lost; are you?) to blessing you, and sneezing, as my favorite in-law says, is not required! heaveniscooler(@t sign)live.com
Peace & joy!